Today I had vistors all the way from Brussels. It's was dad's cousin Karin and her family. They have two daugthers (the youngest a year older than me), and they have stopped using some of their toys, so they gave it to me.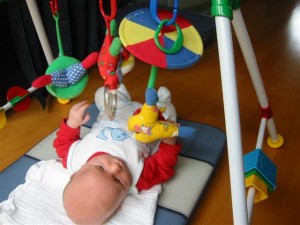 I have never really reacted to toys before, but when I was lying on the floor, with the toys dangling above me in the sunlight, I look pretty funny, and I tried reaching out for it, hitting it sometimes.
Today I also changed the name of my weblog to: "Victor Piil's Baby Blog". It has a nice sound to it, I think.
As usual there are more pictures in the photo album
Share